"Quoting small commercial insurance takes forever. The premium just isn't worth the effort."
Sound familiar? You're not alone.
Introducing the only Submission Management Platform available on the market. If you're ready for a real solution to the problem of digital distribution, scalable growth and efficiency, and easy tech adoption, then you need Wheelhouse.
With our Submission Management Platform, you'll be able to simply:
✔️ Quote bindable commercial policies instantly
✔️ Increase efficiency and grow your book
✔️ Distribute commercial products digitally
✔️ Grow your business efficiently
✔️ Transition to digital simply
✔️ Access 30+ carrier integrations across 5 product lines
PUTTING SMALL BUSINESS BACK IN YOUR WHEELHOUSE
Our 30+ API-driven carrier integrations have made Talage's SMP a robust, industry-wide solution. Talage is the SiMPle solution.
We're excited for you to join the thousands of other agents already benefiting from a frictionless experience that simplifies the selling of commercial insurance.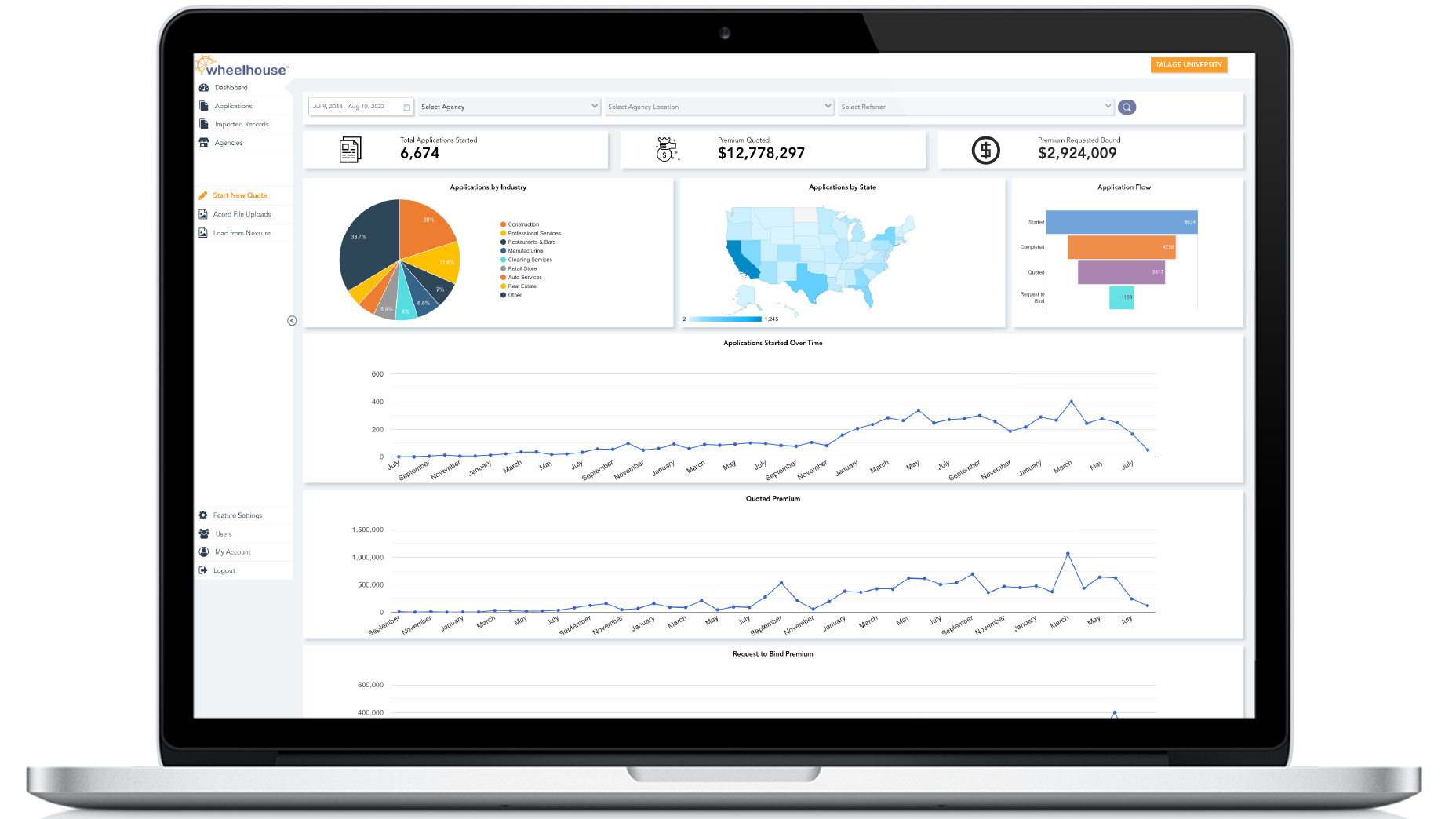 Subscribe to Wheelhouse Today!
Market Access and Direct Appointment Access
$250/mo
Get instant access to 30+ carrier integrations across 5 product lines.
---
Easy Application Management

Multi-Carrier Appetite Check

Editing & Appending Capability

Client Communication

Cross-Sell

Data & Analytics

Digital Storefront

Insurer Selection

Quoting Engine

Renewals

Plus more...
"Talage allows us, an agent, to sell digitally without having to manage any APIs or integrations ourselves, making digital distribution simple and easy."
"The small commercial market is a big opportunity and our partnership with Talage is a very important benefit we offer our members."